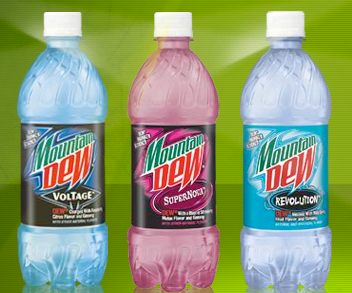 MovieMiguel.com
When flavor goes supernova all you can do is "Brace for the Blast." Prepare yourself for Strawberry Melon Lime with a Ginseng tremor that'll knock your taste buds into the next dimension. This exciting new taste is here, so get a serious grip and launch yourself into the fray with our campaign tools. Mountain Dew® Supernova™ is the one.
How's it feel to wield the power? Pretty sweet. Witness a revolution that dares to turn the world of Mountain Dew® upside down. Just one taste of Wild Berry fruit flavor with a Ginseng boost and you'll be ready to "Join the Movement." Use our campaign tools to keep the momentum going, and Mountain Dew® Revolution™ will be here in charge before you know it.
You don't just taste the intensity, you practically feel it. In our world, voltage measures a charge of Raspberry Citrus with a closing burst of Ginseng, all blended to "Shock Your Senses." And after you've pulled yourself together, put that energy into our campaign tools and spread the word. That shock you felt up and down your spine? Mountain Dew® Voltage™.





To Subscribe to The Movie Miguel Show using iTunes: (automatically downloaded to your computer via iTunes)



MovieMiguel.com

MySpace.com/DjMovieMiguel