Volunteer Santas have to sign a clause

On the advice of legal counsel, Santa Claus is changing the way he does business.
Actually, the Postal Service is changing its Operation Santa program, in which letters to Santa are answered by volunteers who grant children's Yuletide wishes.
For nearly 100 years, Postal Service employees have sorted through the Santa letters and passed many on to volunteers, charitable groups and corporations that want to help. Volunteers could call an 800 number to receive information on a deserving child or go online to answer the Santa letters.
This year, for the first time, those volunteers will have to present photo identification and sign a waiver releasing the Postal Service from liability for "all causes of action, claims, liens, rights or interests of any kind or type whatsoever."
There have been no lawsuits or accusations of impropriety.
Sue Brennan, a spokeswoman for the Postal Service, says the change was made "to protect the children and to protect the integrity of the program and the Postal Service."
The letters often included home addresses and telephone numbers. "We were giving out information about these kids to people we didn't know," she says.
"This is absurd," says John Andrews, a former president of the Colorado Senate who specializes in tort reform at the Claremont Institute, a conservative public policy think tank in California. "You would think the North Pole is one place on Earth that is safe from the trial lawyers and the litigation experts."
Local post offices get "hundreds of thousands" of Santa letters, Brennan says.
"The vast majority of letters are kids asking for Xboxes or iPhones," she says. "It's the ones that are the needy letters that make people want to make their wishes come true."
A few years ago, Brennan says, a third-grader from Brooklyn, N.Y., wrote: "Dear Santa, All I want for Christmas is some food and for my daddy to come back. … I remember once when he bought me a ball to play with. And I want food for Christmas because if you don't eat food you will die and I don't want to die. Love, Luis."
The Postal Service helped Luis have a merry Christmas.
He got "a bunch of toys," Brennan says, and a local newspaper helped raise money for food — so much that the family had to store some of it in the refrigerator at a nearby school.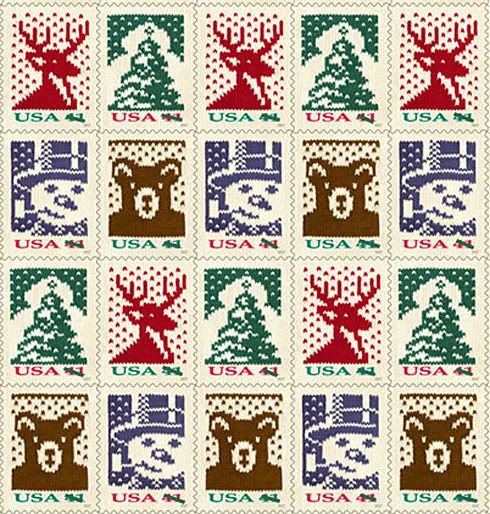 For the 2007 holiday season, the U.S. Postal Service will issue Holiday Knits, four stamps featuring classic Christmas-time imagery designed and machine knitted by nationally known illustrator Nancy Stahl: There is a dignified stag, a snow-dappled evergreen tree, a perky snowman sporting a top hat and a whimsical teddy bear.
http://www.usatoday.com/news/nation/2007-11-22-santa_N.htm?csp=34
MovieMiguel.com
To Subscribe to The Movie Miguel Show using iTunes: (automatically downloaded to your computer via iTunes)
MovieMiguel.com
MySpace.com/DjMovieMiguel