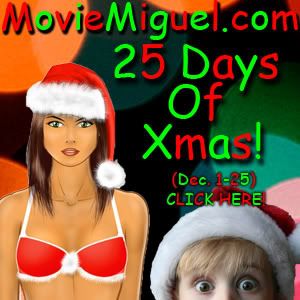 Hey, folks! its MovieMiguel.com and in the spirit of the holidays we at Movie Miguel.com have deiced to bring you YEAR 3 of the 25 days of Xmas.
starting Dec 1st and ending Dec 25th everyday on the home page we will post a song or (new this year) a video (or both) Everyday!
in order to keep things new and fun we are for the first time opening up submitions to the public!
now theses songs and videos CAN NOT be your normal christmas songs for example
"Yellow Snow! Yellow Snow! Yellow Snow!" By Bob Rivers. from; More Twisted Christmas
Submition Forum: you can submit items via comments here on blogger or via email,
HERE
Your Name:
Your URL (MySpace):
Song title:
Artist:
Album:
URL (if the song is online or youtube links):
PLEASE TELL YOUR FRIENDS AND DONT FORGET TO CHECK BACK DAILY ONCE THE 25 DAYS STARTS, to CHECK BACK DAILY!